American Eye Care has a long history in providing the highest quality of contact lens care in Fayetteville and Dunn!
Contact lens selection is based on more than simply your eyeglass prescription. Your doctor will assess your vision problems, evaluate your eye health, ensure comfort of your new lenses and prescribe lenses that best fit your lifestyle requirements. And your age is not the barrier it once was when deciding if contact lenses are right for you! Choosing an eye doctor who can properly evaluate all of these factors and advise you on the best contact lenses for you is paramount.

If you are interested in a contact lens evaluation, please fill out the form below or call our office today to schedule your appointment. Dr. Elmore will be more than happy to advise you on all of the lens choices you may have available. For new patients to American Eye Care, a patient should expect to wear a contact lens for several days or weeks in order to evaluate their ability to adapt to the vision and comfort contact lenses provide. Following this trial period, and a follow-up to assess the power, fit and comfort of the contact lens, Dr. Elmore will verify and finalize your contact lens prescription.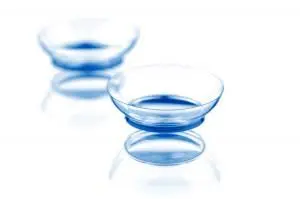 The doctors at American Eye Care can provide specialty contact lenses evaluations for those patients with severe dry eye, keratoconus, and pellucid marginal degeneration. Dr. Elmore has experience prescribing specialty lenses including SynergEyes, sclerals/mini-sclerals, Corneal Refractive Therapy (CRT), Rigid Gas Permeable lenses, and bifocal contact lenses (soft, rigid and hybrids).

CRT or Corneal Refractive Therapy is a non-surgical process that reshapes the cornea while you sleep, resulting in temporary correction for those with myopia and/or moderate astigmatism. This therapy is ideal for active children, teens, or adults who wish to be rid of eyeglasses or conventional contact lenses during the day. For more information, please visit Paragon CR